February 2010
Tipton Golias - Grand Life Master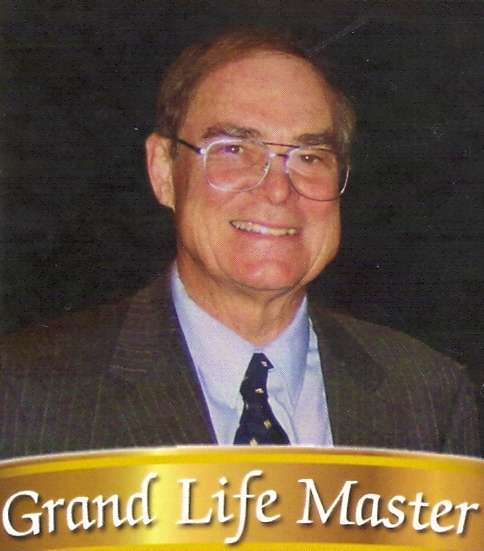 Tipton Golias achieved Grand Life Master, the highest rank bestowed by the American Contract Bridge League (ACBL), in Feb. 2010.
This monumental achievement requires the accumulation of 10,000 master points and winning a national championship event. It is an honor achieved only by some 300 active members of the world's greatest bridge players, most of whom play as a full-time career. Tipton plays regularly at the Beaumont Bridge Studio. We are proud of his membership in and support of our club. He quietly and without fanfare provides a remarkable amount of support to our club facilities, events, activities, and level of play.
Tipton achieved this award while serving as founder and president of Helena Laboratories, a company he started in 1966. He founded and chairs Etoco, an independent Houston energy company. He serves our city and community and directly participated in emergency services in Beaumont through local disasters including hurricanes Ike, Rita, and Gustav. His path of influence is long, wide, and commendable. Tipton is also an internationally recognized clinical chemist. At Helena, he designs and manufactures diagnostic test kits and clinical laboratory instrumentation and supplies. His technical expertise and creativity have generated a hundred-plus patents, products, and approximately $100 million in annual revenues. The Corporate headquarters are located in Beaumont, Texas, and consist of over a quarter million square feet of research, manufacturing, inventory, engineering, and administrative facilities. Helena products are distributed globally. Helena has been awarded the U.S. Secretary of Commerce "E" Award for excellence in contribution to the American economy through export operations.
Tipton received the American Association of Clinical Chemists Van Slyke award, the highest academic award in Laboratory Medicine. Two recent Van Slyke recipients have gone on to receive the Nobel Prize. Tipton was recognized for making significant improvements over many areas of clinical chemistry during the past 46 years. His acceptance of this award is entertaining, inspirational, and charismatic. See Tipton Golias - Van Skyke Acceptance Speech.
Tipton is truly an expert bridge player. In 1997, he played on the team with Grant Baze, Adam Ludminski, and three other world class players that won the most prestigious Spingold Championship. This competitive expert class tournament is a coveted national championship event. Tipton played for years on the Grant Baze duplicate bridge team, one of the world's best. Baze, who died in 2009, was one of the greatest players of all time and one of Tipton's close friends. Their team won awards in many national events. Tipton hosted a tribute to Baze at the Houston nationals in 2009 and authored a special article about his times with Baze in the ACBL's Bridge Bulletin.
As past unit representative to the District 16 board, Tipton was instrumental in bringing a regional tournament and sectional tournament to the Beaumont area. He has most generously underwritten countless club activities such as member directories, tournament newsletters, life master award parties, and other special events. Tipton's many contributions to duplicate bridge and Unit 201 earned him the prestigious Texas Star Award.
From The Beaumont Bridge Studio membership - "Thank you and congratulations, Tipton. We're proud to know you and be associated with you. It is a great honor to play with you."
---
February 2010
Our newest Life Masters - Don and Juinez Moss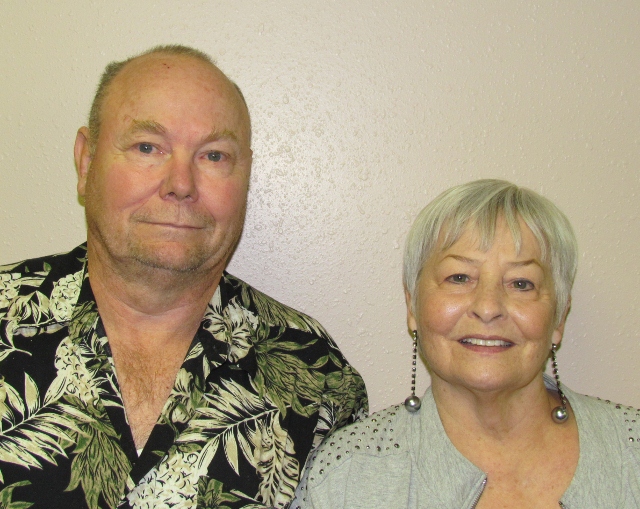 Even though Don and Juinez Moss, like most of us, are some 9,000+ points behind Tipton, we are proud they have achieved the first major award in their ACBL lifetime - the rank of Life Master.
Don and Juinez started their quest for Life Master a short three years ago. They played together as happy spouses, which is a difficult path for most pairs. They made the accomplishment in a notable time frame and received their award while remaining together and loving. Because of their success, they inspired many hopefuls to pursue the goal more aggressively. They have spawned a new group of up'n'comers that benefit from their achievement. Their confidence and success is an inspirational challenge and motivation to newer players. We are proud of not only what they accomplished, but what they have contributed to our club.
One of the characteristics of their quest was a fearless desire to compete in any field of players. Whereas most new players take the more comfortable path of playing in the limited games, Don and Juinez ventured into the open games and competed effectively with many great players. Their confidence and ability grew as did their skills and mental focus. Great doings, Don and Juinez - we love ya'.
---
February 2010
Bobbi Robinson - Life Master
Bobbi earned her Life Master at the Houston Regional on Feb 2, 2010. Mighty congrats - few players have been more qualified for the title, and we are all be proud of her for her accomplishments in 2009. In addition to earning Life Master status, Bobbi
accumulated 163 points this year to win the Unit 201 Mini-McKenney award,
played a 69+% game to win the District 16 International Fund Game in the spring,
managed the Lufkin Bridge Club, and
taught many aspiring players how to play duplicate bridge.
Well done, Bobbi.